Museum of Humanity
Museum of Humanity

Opening performance 

All the beauty that's been lost before wants to find us again (U2)


The museum of humanity is set up and run by photographer Ruben Timman. The museum has been developed based on a dream to restore and celebrate the beauty, diversity and dignity of humanity. Ruben travelled the globe and captured people in all kinds of (often difficult) situations. Amidst the hardship and uncertainty he put up his photography tent and captured people in a way where you see their suffering, but even more so, you see their strength and dignity.
Article 1 of the Universal Declaration of Human Rights is the heart and guiding principle of the Museum of Humanity
All human beings are born free and equal in dignity and rights. They are endowed with reason and conscience and should act towards one another in a spirit of brotherhood.
Artist team

Ruben Timman (photographer / founder of Museum of Humanity)
Eva van der Pol (cello)
Suzanne de Bekker (dancer/choreographer)
Marloes van Houten (dancer/choreographer)
Forge Collective coordinated the performance for the opening of the museum in March 2019.
Partners:
Zaandam municipality
Performance location

Performance location: Hembrug terrein, Zaandam (The Netherlands)
Publicity:
Beyond Dots
Chinese calligraphy knows rhythm, composition, texture, like choreography and dance does.
In the exhibition Lines in Motion- East Meets West traditional Chinese Calligraphy and painting are displayed side by side Western Modern Abstract art. As part of the exhibition, the cross cultural dance collective Forge produces two nights of dance with the title BEYOND DOTS, to bring the philosophy and stories behind the Chinese paintings and calligraphy to life.
The performances show a multiplicity of responses to CHANGE. Are we willing and capable to explore what lays beyond the metaphorical 'dot', the ending of something? East and West, Modernism vs Conservatism, change vs continuity.
Team
Artistic direction, choreography, dance: Marloes van Houten
Dancers/choreographers: Ruochen Wang, Rosa Allessie, Regilio Sedoc, Jort Faber, Dio Semerel, Robin van Zutphen
Scenography/story telling: Ting Gong
Visual artists: Hui Jen, Loi Che Rakhorst, Edgar Janssen, Hanna Maas
Organizers
Centrum voor Beeldende Kunst, Amsterdam
Loi Che Rakhorst Gallery
HKNLversations
More info

DANCE x CALLIGRAPHY – official opening exhibition from HKNLversations on Vimeo
Deep Fall Puppet
This performance is made in conjunction with the exhibition "Cold Nights" in UCCA's Central Gallery, which is inspired by modern Chinese writer Ba Jin's eponymous 1947 novel. Curated by Boliang Shen and Zhanglun Dai, the exhibition explores the performativity of creative acts, and the potential of artistic collaboration in times of precariousness and disillusionment. Two female Dutch choreographers and dancers, Marloes van Houten and Rosa Allessie, have been invited to merge their bodies with the world of Ba Jin's novel. In their choreographic response to the "Cold Nights" exhibition, they explore the subjectivity of the protagonists. They inhabit and reflect on the struggle between manipulation, love, jealousy, modernism, and conservatism. The dancers start as sculptures that gradually come to life, allowing the the dance, their relationships, and the narrative to unfold.
The exhibition, as well as the choreography of Marloes van Houten and Rosa Allessie, are both the artists' response to their fictional personae and their collective reflection on current reality. The overlap and mixture of these responses construct a new space, a new text.
Team
Choreography/dance: Marloes van Houten / Rosa Allessie
Photography: Kasper van der Spoel
Performance location (Beijing)
Ullens Centre for Contemporary Art
Publicity
mp.weixin.qq.com/s/u1wMdc8Gx2H2FuYVx_NK0g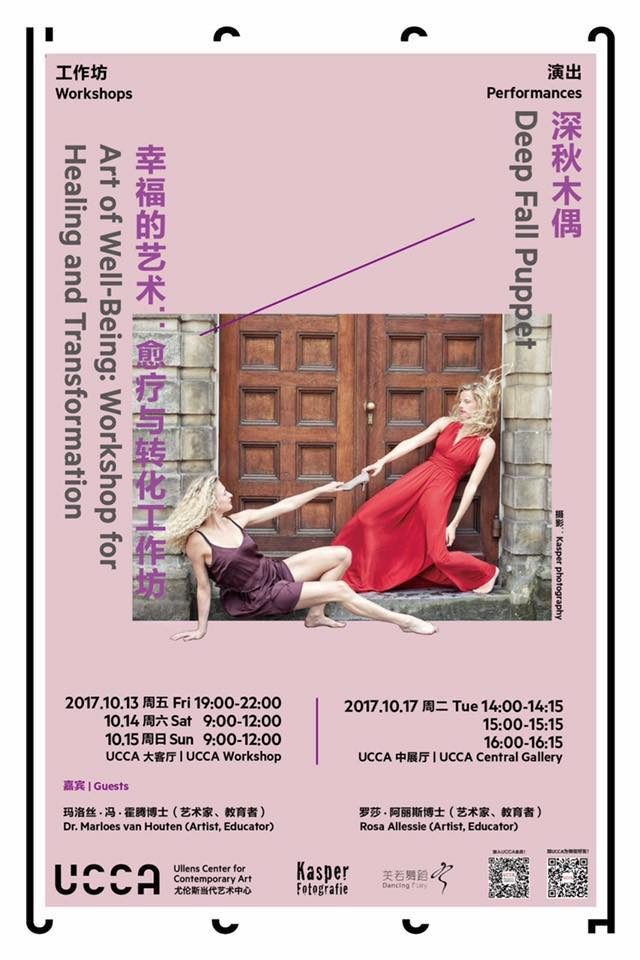 Muscari Armeniacum
Muscari Armeniacum (grape hyacinth/blauw druifje) is a painterly symbol of tenderness, caring love and solitude. The choreography was inspired by Damian Kapojos' sculptures. The multiplicity of dualities in Kapojos work, made choreographer van Houten think of Jeroen Bosch 'Garden of Earthly Delights'. While exploring both works in relation to each other she questioned what the place for 'muscari armeniacum' could be amidst the battle between the sexes, unity and disparity, good and evil. The performance shows both the dualities, struggle, contrast as well as their hope for the 'tenderness, caring love and solitude'
The performance was first staged as an onsite piece part of the annual art exhibition 'Art Rotterdam'. Later it was developed into a theater work and performed as a double bill with Hong Kong choreographers/dancers Tracy Wong and Mao Wei's  "Pardon": trailer.
Team
Art direction/choreography: Marloes van Houten
Dance: Marloes van Houten, Joe Mulier
Video: Annemarie Meertens
Cinematography: Ederson Xavier
Photography: Michel Ninaber
Performance locations
Art Rotterdam 2017, Van Nelle Fabriek Rotterdam
De Hallen, Amsterdam
Publicity
Review
Catapult
CATAPULT is a dance film, a short theater performance and a photo series on people's diverse relationship with the topic maternity.
It's based on real life stories of Hong Kong people on the topic of maternity; receiving new life, losing it, longing for it. Especially in terms of not infertility, miscarriage etc it seems to be a topic with a lot of shame around it, or there is simply no space for grief.
More in general maternity is not just about motherhood in the literal sense. Its about new things to be launched, to be catapulted into existence. What would you like to lean into, to come forth, to be catapulted into?
Team
Art direction / concept / dancer: Marloes van Houten
Choreography / cinematography: Kim Eugenia
Dancer: Kristopher Peter Long
Photography / drone: Tin Mok, MacFlow Tsang, Jon Martin
Rope artist & photographer: Steve Freeman
Outfit sponsor: ravenandroselingerie.com
Rehearsal space & artist in residency provided by: CCDC
Performance location
Sheung Wan Civic Theatre, Hong Kong
Exhibition location
www.goodin.hk/festival-du-feminin/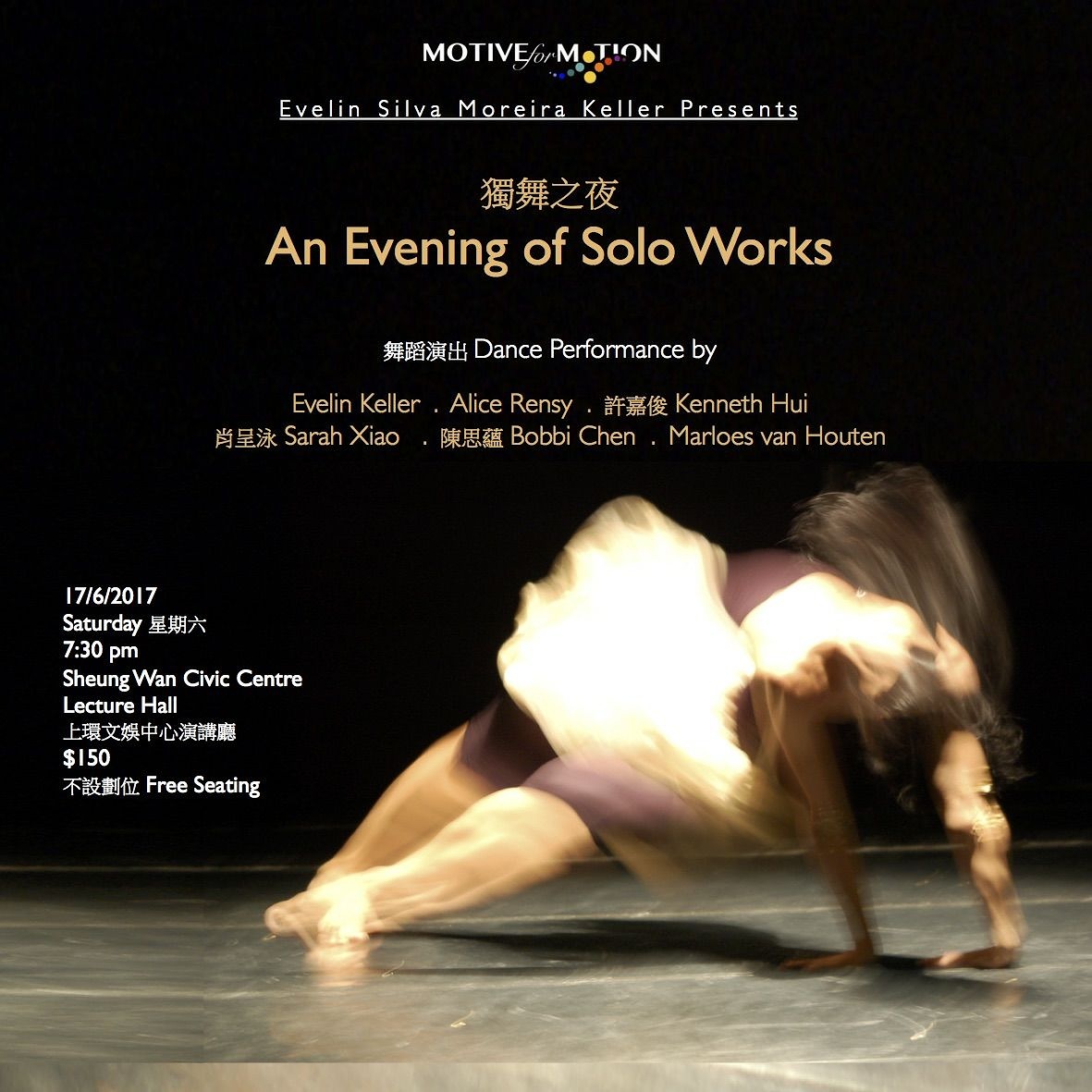 Flora, Forgotten and Forgiven
Flora, represented by two female dancers, explores the "life world" of Damian Kapojos sculpture, as a modern day version of "Garden of Earthly Delight". Amidst the struggle centered around madness – sanity, morality – sexual sin, Eastern and Western identity roots, Flora is in search for forgotten places. Places that offer her clarity, relieve and forgiveness". She brings the "life world" of the sculpture closer to the audience, in an organic movement sequence of attachment and de-attachment, with a wink to classical Indian dance which lends itself for exploring the emotional intensity and blurred lines between sanity and madness.
Team
Project initiator/sculptor: Damian Kapojos
Dance concept & regie: Marloes van Houten.
Choreography/dance: Marloes van Houten & Ana Portela
Body paint: Lia Kinibaeva of Looklab
Bodypaint design: Damian & Marloes
Photography: Erik de Roij
Sponsor: Mondriaan Fonds
Performance Location
Prospects and Concepts
Art Rotterdam 2017
Van Nelle Fabriek, Rotterdam, NL
Publicity
www.mondriaanfonds.nl/en/pcprofile/prospects-co-workspace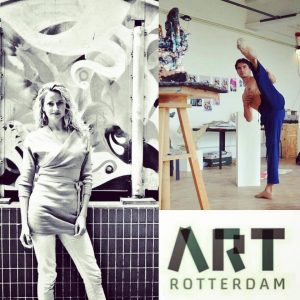 SPEAK
Artistic Statement
I had a lot to say
It has become incredibly silent within
I am my text, with each movement
A word of my writing
A solo and dance photo series about remaining silent and/or speaking up amidst injustices, and how silence is just another form of speaking.
Team
Concept, text & dance: Marloes van Houten
Choreography support: Choi Si Wong / Mao Wei
Third eye: Kristopher Peter Long
Second dancer: Luigi Prato
Photography indoor & video: Jin Heng
Photography outdoor: Gareth Brown
Production team: Winnie Lo / Tiu Ivan Karlson / Eugenia Kim
Presenter: Hong Kong i-dance festival 2016 / Justice Conference Asia
Location photo series: Sai Wan Pier, Hong Kong
Peer to Pier Project
Hong Kong & The Netherlands 2016/17
Peer to Pier is a collaborative artist-in-residence and cultural exchange project. Part of the Hong Kong International Choreography Festival and Dutch Days in Hong Kong, this multi-disciplinary project involves a group of female artists from Hong Kong and the Netherlands, together they reflect on 'growth' of their being and in their artist career. Travelling from pier to pier, supporting each other like peers.
Public programme at gallery Mur Nomade included the installation Ichi by sculptor May Yeung and site-specific dance performances The Voyage:
Team
Artistic Direction / Choreography / dance: Marloes van Houten
Choreography / Dance: Ivy Tsui, Rebecca Kip Pei Wong, Ilse Evers
Singer: Jeanine La Rose
Music: Sze Ka Yang, Constanze Lee, Linda Tong
Installation art / photograpy: May Yeung
Video: Jin Heng
Cinematography: Kenny Werbata
Organizers of Dutch Days in Hong Kong: The Consulate General of the Kingdom of the Netherlands and Asia Week Hong Kong
Presenter and Artistic Director of HKICAROS and Hong Kong
International Choreography Festival: Vangelis Legakis
Venue Sponsor: Mur Nomade
Publicity
https://ocula.com/art-exhibitions/mur-nomade/peer-to-pier/
Reviews
Poiema
Hong Kong 2015
A commissioned on-site dance theater performance made in the oldest settlement of  Hong Kong (Shui Tau Tsuen).
The performance was part of i-dance festival 2015 organized by Y-space dance company.
Artistic statement
I write
with my being
a signature into this world
a poiema
a living poem
I become….
Team
Artistic direction: Marloes van Houten.
Dance/acting performers: Ara Cho, Gary Swart, David Leung, Eva Lin, Carmen Read, Marloes van Houten.
Music: Callum McKenzie, Paul Yip.
Review
Forge Portmanteau
A Dutch Cantonese production  – Hong Kong 2015.
Team
Artistic statement and flyer: bit.ly/28K9XMf
Artistic direction: Marloes van Houten.
Choreography: David Leung, Mimi Loo, Marloes van Houten.
With an interdisciplinary team of 15 performers.
Supported by: The Dutch Consulate to Hong Kong and Macau & the Centre for Community Cultural Development
Interdisciplinary Art Making Workshops
The photo's on the side, are from Interdisciplinary art making and movement workshops in Shui Tau Tsuen, The City Contemporary Dance Centre (CCDC), the Hong Kong Academcy of Performing Arts (2015), Passover Dance, and the Garden of the Dutch Consul general to Hong Kong.