Catapult
CATAPULT is a dance film & short performance on people's diverse relationship with the topic maternity.
It's based on real life stories of Hong Kong people on the topic of maternity; receiving new life, losing it, longing for it. Especially in terms of not infertility, miscarriage etc it seems to be a topic with a lot of shame around it, or there is simply no space for grief.
More in general maternity is not just about motherhood in the literal sense. Its about new things to be launched, to be catapulted into existence. What would you like to lean into, to come forth, to be catapulted into?
TEAM
Marloes van Houten: art direction / concept / dancer
Kim Eugenia: choreography / cinematography
Kristopher Peter Long: dancer
Photography / drone: Tin Mok, MacFlow Tsang, Jon Martin
Steve Freeman: rope artist & photographer
Outfit sponsor: ravenandroselingerie.com
Rehearsal space & artist in residency provided by: CCDC
Performance location Sheung Wan Civic Theatre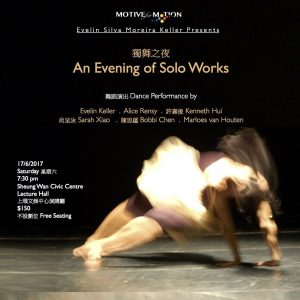 SPEAK
Artistic Statement
I had a lot to say
It has become incredibly silent within
I am my text, with each movement
A word of my writing
A solo about the injustices happening to us as a person / group and the courage to keep pressing on.
Credits
Concept, text & dance: Marloes van Houten
Choreography support: Choi Si Wong / Mao Wei
Third eye: Kristopher Peter Long
Photography & video: Jin Heng
Production team: Winnie Lo / Tiu Ivan Karlson / Eugenia Kim
Presenter: Hong Kong i-dance festival 2016 / Justice Conference Asia
Poiema
Hong Kong 2015
A commisioned on-site dance theatre performance made as part of i-dance festival 2015 organized by Y-space dance company.
Artistic direction: Marloes van Houten.
Performers: Ara Cho, Gary Swart, Callum McKenzie, Paul Yip, David Leung, Eva Lin, Carmen Read, Marloes van Houten.
Review
HK dance journal


Forge Portmanteau
A Dutch Cantonese production  – Hong Kong 2015
Artistic statement and flyer: http://bit.ly/28K9XMf
Artistic direction: Marloes van Houten.
Choreography: David Leung, Mimi Loo, Marloes van Houten.
With an interdisciplinary team of 15 performers.
Supported by: The Dutch Consulate to Hong Kong and Macau & the Centre for Community Cultural Development
Instinct
Intro
Within 'Instinct', Dutch choreographer Iris van Peppen researches the human instinct to move, inviting surprises to come to new ways of moving and being. See more about this local chapter here.
Artistic Direction: Iris van Peppen
Interdisciplinary Art Making Workshops
The photo's on the side, are from Interdisciplinary art making and movement workshops in Shui Tau Tsuen, The City Contemporary Dance Centre (CCDC), the Hong Kong Academcy of Performing Arts (2015), Passover Dance, and the Garden of the Dutch Consul general to Hong Kong.